POLARITY, COLOR & ORIENTATION ATTRIBUTES IN MOTION AND TEXTURE PERCEPTION
<![if !vml]>
<![endif]><![if !vml]>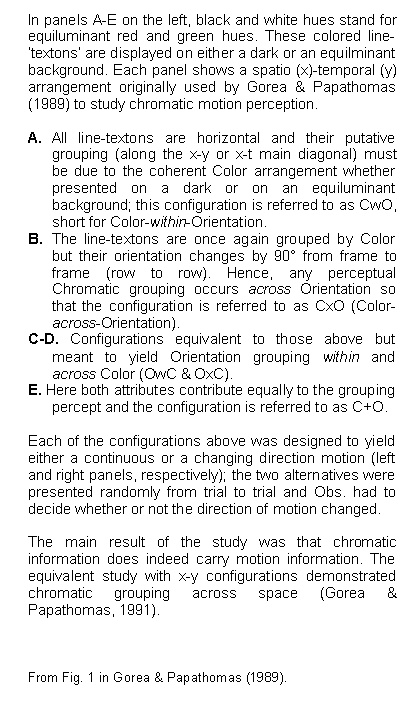 <![endif]>
***
Black and white (A) and red and green (B) texton configurations demonstrating texture discrimination based on Polarity (P) or Color (C) and Orientation (O). Notation is the same as above. The new configurations coined P <-> O (Polarity against Orientation) and C <-> O (Color against Orientation) yield competing groupings for P/C and O (along the positive and negative diagonals, respectively).
A
<![if !vml]>
<![endif]>
B
<![if !vml]>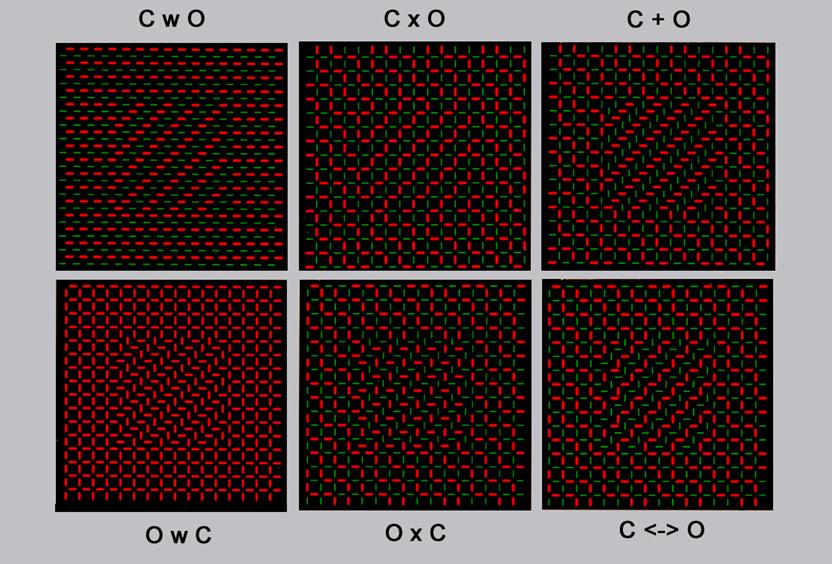 <![endif]>
***
The logo of the European Conference on Visual Perception organized by A. Gorea in Paris, 1990 used the Color and Orientation grouping principles demonstrated above. It was designed in collaboration with T.V. Papathomas. (A) and (B) show two variants of the final logo.
A
<![if !vml]>
<![endif]>
B
<![if !vml]>
<![endif]>
***
The image below was exhibited as part of the collective art exhibition  Thresholds: Limits of Perception at the New York Arts Biennial 1997, New York City , N.Y., October 14-25  under the title "Now you see it, now you don't; or don't you?" co-authored by T.V. Papathomas & A. Gorea. The text is "ONE AIM".
Using the same grouping principles as above, letters "O" and "E" (top) are "carried" by orientation coherence; letters "A" & "M" (bottom) by color coherence and letters "N" (top) & "I" (bottom) by both color and orientation coherence.
Now you see it, now you don't
<![if !vml]>
<![endif]>